Auto da fe: (c) Ken Howard/Metropolitan Opera
With some trepidation and a lot of excitement, I headed downtown to catch the Monday night premiere of
Don Carlo
at the Met. I first got to know
Don Carlo
through what may loosely be called my pre-blog
modus operandi
: I grabbed
a recording
in the library because it was there and looked good, found
the libretto online
, and listened (over and over and over again.) Nicholas Hytner's production was elegant and emotionally powerful, with stylized sets that recalled the Escorial (and environs) while evoking a powerful sense of a fate that approached inexorably, and imprisoned the complex men and women who struggled so furiously against it.
Here
Nicholas Hytner talks about his sense of the opera and his interpretive goals. In the first (Fontainebleau) act, for instance, it is winter, and a black path cuts a stark zig-zag path through the snow. Neither Carlo nor Elisabetta use this route, entering; but having agreed to become Filippo's wife, she is carried down it in procession. The prison-like nature of strong walls with small windows was effective throughout the rest of the opera (such a wall ascending and descending to divide the space of the stage also made scene transitions seamless.) The set for Elisabetta's garden I found jarring and strange; but that was an exception. Against this sleek, streamlined backdrop, the costumes and furnishings were deliciously detailed. Photos from the dress rehearsal may be found
here
; I'll add more as soon as they're available. Hytner was on hand to guide the
Personenregie
(is there an English word for that?) and it was amazing, drawing out the complexities of all the characters, including a hard edge for Martyr to Duty Elisabetta.
Yannick Nézet-Séguin
's conducting was, of course, fast, but it was not merely fast. The orchestra did occasionally outrun the singers, or at least (to my ears) rush them, and did occasionally threaten to drown them. But there was drama in the pacing, not a mad rush through the score; details were pointed up, and the sheer sweep of Verdi's music was relished (I've said it before: I love the Met orchestra. Nézet-Séguin let them shine here.) Despite the issues in balance and pacing, I was on the edge of my seat and holding my breath most of the night, so by that standard of measurement, they were doing something very right. I worried for Roberto Alagna's Carlo during the first act, but whether it was an issue of nerves or warming up, things soon improved and I could relax. It sounds like a relatively heavy role for him, but he delivered it with passion; he does have a beautiful timbre, and his nervy, anguished Carlo was sung with unflagging energy. "Io vengo a domandar grazia alla mia regina," and the subsequent scene, was a highlight.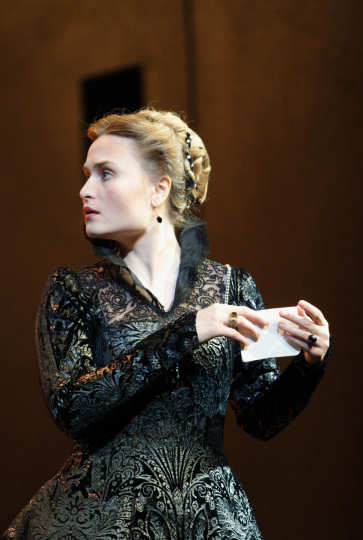 Marina Poplavskaya's Elisabetta was also compelling. She has a bright, strong soprano which she employed with steely focus, with floating lyricism where needed (there were a few moments where her voice seemed to veer out of perfect control, but not enough to make me tense.) The compositional audacity of putting "Tu che la vanita" at the end of this opera never fails to stagger me, but she pulled it off beautifully. And her acting was a treat: from the beginning, her Elisabetta had a sense of her own dignity, personal and political, which informed bearing, gesture, and behavior. Even from the family circle, her remote composure breathed tragedy, and the moments where that composure cracks were made doubly powerful. About that steely edge: her exile of Eboli was cold, hard anger, not saintly forbearance. And although she has agreed to become Filippo's consort, she shies away from his attempted demonstrations of affection in Act IV, in a way which clearly wounds him. Although Anna Smirnova has a powerful, even lush mezzo, her Eboli was less impressive. I'm tempted to use the word "impressionistic" for her vocal and dramatic portrayal.
Simon Keenlyside's Rodrigo would have stolen the opera, were it not for Ferruccio Furlanetto's Filippo. I'll admit, I'm biased: Rodrigo is my favorite character. He's so courageous, so loyal... so
nice
! As in
last season's Hamlet
, Keenlyside's acting was rivetingly intense, and I think his baritone is gorgeous, if not a big "Verdi baritone" sound, and it was certainly intelligently used. He and Alagna had great chemistry; I watched their scenes with a lump in my throat. Keenlyside's Rodrigo captured beautifully the compelling intensity of the man's profound, thoughtful decency. No wonder Filippo values him so highly. And here, whether it was Hytner's choice or Keenlyside's or a collaborative one, Rodrigo doesn't just love Carlo; he is
in
love with him. This is understated, beautifully done, and (of course) heartbreaking, made clear through dozens of small, arrested gestures... the look on the man's face when Carlo confesses his love for Elisabetta, the way he looks at the incriminating portrait found among the queen's things, the expression given to so many of his phrases. The prison scene, of course, brought me to tears (audio from last year's London performance
here
.) From a purely technical standpoint Keenlyside was incredible--I have no idea how he sang "Io morro" that way while crumpled up on the floor--and from an emotional, devastating. (This was helped by Alagna's Carlo, who was distraught and solicitous rather than vaguely distressed and useless.) When, almost at the end, he runs his hand through Carlo's hair (repeatedly, at last,) I nearly sobbed.
Ferruccio Furlanetto's Filippo was one of those performances that I feel simply privileged to have seen. His very walk was regally imposing. His reputation, of course, precedes him: but that voice... I have a timid little theory that maybe the greatest voices betray that quality in their potential to continually surprise you, no matter how well you think you know what to expect. My words are inadequate; if you possibly can, go, watch a master of his art at work. Not only does Furlanetto have stage-owning sonority, near-whispers or -shouts also gave goosebumps. An inflexible, but not unreflective monarch, he terrified in Acts II and III and then wrung our hearts in Act IV. The curtain rises to find him at a prie-dieu, from which he moves to the table where he sits for "Ella giammai m'amo." The audience, thank heavens, waited until the last note had died (though still, perhaps, not allowing the spell to last long enough) before unleashing the applause. The scene with the Grand Inquisitor sees Filippo still incredibly vulnerable, eventually getting angry enough for a beautifully snarled "Non più, frate!" The scene with Elisabetta continued to wring the heart. He is angry, of course... but it's also poignantly clear that he loves her, genuinely, deeply; he's yearning for any sort of reassurance or rebuttal that she might give him. Of course, neither is forthcoming. When she swoons, his "Soccorso alla regina!" is not a punctilious order; it's an anguished cry, as he catches her and cradles her in his arms, holding her, stroking her hair, kissing her forehead, as she will never allow him to do. I nearly cried. He is once again the avenging monarch in Act V, credible both in his stabbing Don Carlo (!!) and in his awe-struck acknowledgment of Carlo V's ghost. This post has wallowed in detail and attained embarrassingly grand-operatic dimensions, but I can't close without another recommendation. Flaws notwithstanding, it was a great night at the opera.
Here are the curtain call photos, including Hytner and the production team, who were generously applauded. Note: a man with a big head prevented me from getting Keenlyside's bow. Then a man whom I suspect of a creepy crush stood up just for Poplavskaya's. But: