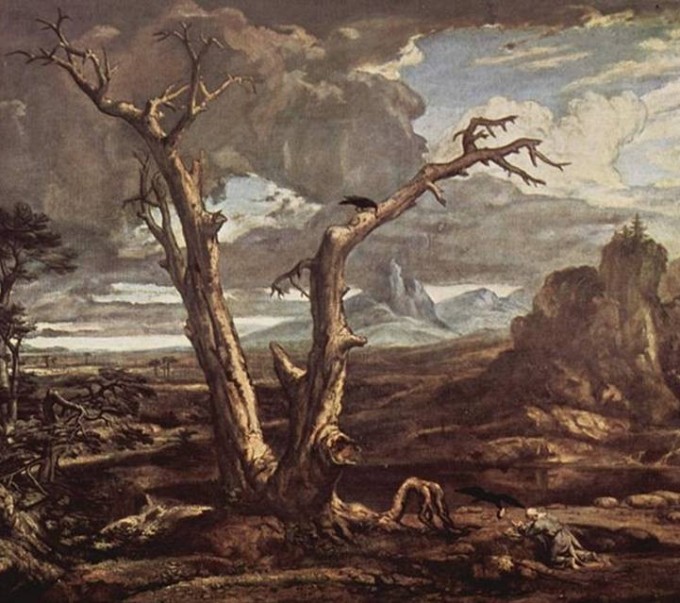 I was invited to hear
Gerald Finley
with the New York Phil under Alan Gilbert perform Mendelssohn's
Elijah
on Wednesday, and enjoyed a very fine performance from orchestra seating (a treat!) The oratorio is a favorite piece of my Respected Father's, but it had been ages since I'd heard it. Encountering it on Wednesday, I was intrigued by Mendelssohn's weaving of texts to create a powerful narrative of an individual's struggle for his faith (both on behalf of it publicly, and internally with doubt and even anger.) The English texts, excerpted from Job, the Psalms, and prophetic literature of the Old Testament, as well as the stories of Elijah, may be found
here
. Many of the episodes in the oratorio are inherently--even sensationally--dramatic, with music for tempests, fire from heaven, and a miraculous raising of the dead, but Gilbert and the orchestra maintained a sense of tautness and drama through subtler passages as well.
All of the soloists impressed me; each of them seemed deeply engaged with the drama of the piece, and they worked well together, voices blending beautifully. (No egregious gown or hair choices either, and a splendid example of the Art of the Décolletage on Twyla Robinson, in a gray dress with a lavender sheen.) Jennifer Johnson's warm mezzo was lovely as a Woman of Israel and sundry Angels. Soprano Robinson was the other Woman of Israel and the Widow with whom the prophet stays for a time and whose son he raises from the dead. There were a few moments where her voice seemed to have a peculiar resonance (forward? as though I could hear the vibrations of bones in her face) but this may have been an effect of the microphones which were distributed in a manner suggestive of an intended recording. She had a bright, powerful voice; could it have been deployed more subtly? Possibly. English tenor
Allan Clayton
sang Obadiah and Ahab with beautiful phrasing and tone. (I was slightly distracted by the fact that he looked like a nice young man, and not like the wicked king with florid face and oiled beard favored by Sunday School illustrations.)
Alice Coote
, fighting a cough, sang with commitment and strength, but I felt as though her performance was on thin ice. The chorus also turned in a very fine performance, with incisive attention to text and dramatic responsiveness. The chorus master came out at the end to join them in receiving well-deserved applause.
These were good. Gerald Finley was a revelation. This was my first live experience of his voice: warm and clean, with an edge to it. His emotional commitment to the music, and dramatic engagement with the text, were extraordinary. His Elijah was a vivid and moving portrait, presenting his anger, fear, doubt, and even sarcasm ("Call him louder!") as well as his moments of sublime strength and compassion. Precise and smooth throughout, his was a beautiful rendition of Handel's profoundly human prophet. Strong individual performances added up to more than the sum of their parts with the aid of orchestra and chorus, ending with despair unexpectedly redeemed in a triumphantly joyous conclusion.