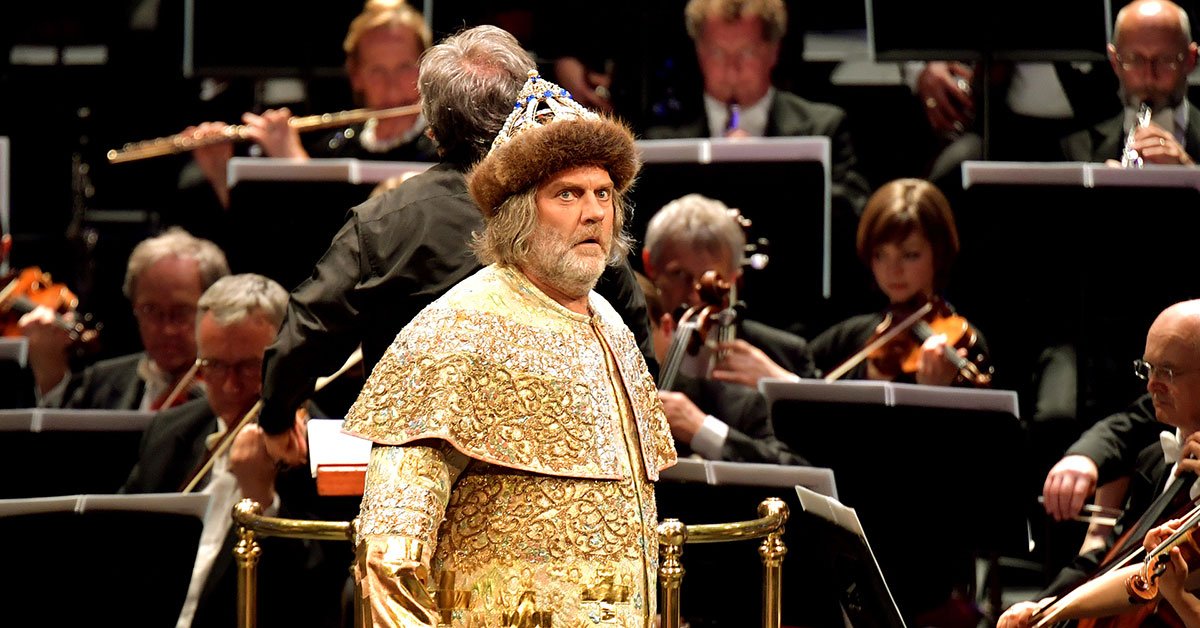 Terfel as Tsar: Boris Godunov at the London Proms
It was due to
a timely Tweet
from the Royal Opera that I found myself, on Saturday night, happily making part of the throng in the arena of the Royal Albert Hall, eager to see the grand spectacle of Mussorgsky's
Boris Godunov
distilled into a semi-staged performance. It's impressive to me, incidentally, that the turnout was so good; I was able to get a last-minute ticket, but still: two hours of Russian is two hours of Russian. I was fascinated by it. Not only did the evening provide a chance to hear Mussorgsky's score without the posthumous fillings-out and fillings-in that have become usual to it, but it provided me with my first live hearing of Antonio Pappano's conducting, and renewed proof that Bryn Terfel is one of the finest stage actors in opera.
The acoustics in the arena, while less than stellar, didn't bother me as much as the last time I was here. Pappano's propulsive account of the score came across well, with sharp, expressive details emerging from the tapestry of the whole. The great bells booming from the gallery gave me chills. I was particularly impressed by the richness of the strings, and the nuances of dynamics and tempi, which did much to communicate the essentials of the drama. It is pertinent to note that there were no surtitles, and I understand only such Russian as I've picked up from operas and film. I was glad of the opportunity (the first in my exclusively 21st-century opera-going experience) to see and hear how this affected my own reception. It still worked for me, obviously, and the expressive singing of chorus and principals needed no emotional translation.
The cast was very strong throughout, with John Graham-Hall a finely-drawn Shuisky, and Andrii Goniukov and Harry Nicoll a vivid double-act as Varlaam and Missail. Ain Anger was a standout as Pimen, his sweet, sonorous bass bringing nuance and gravitas to the role. Especially in his scene with Boris, David Butt Philip brought impressive vocal and dramatic presence to the role of Grigory.
Bryn Terfel himself sang authoritatively and expressively, with absolutely stunning (to me) use of a very small area of stage. He sounded slightly grainy at the outset, but warmed up well, and used phrasing with remarkable beauty. Never have the seeds of Boris' own doom and madness been so apparent from the ostensibly triumphant beginning onwards. Also, as one of the groundlings, I thought his act of physically gathering in the standing audience as part of the peasants' chorus demanding bread was inspired. Terfel made Boris credible both as a ruler justly feared and respected, and as a man haunted by ghosts of his own making. His final scene with Fyodor was particularly striking to me, as he took it from a half-blustery exhortation to a deeply personal, intimate plea. In this version of the score, there is no concluding chorus, no public response to Boris' death; merely the tsar's last, terrified words.