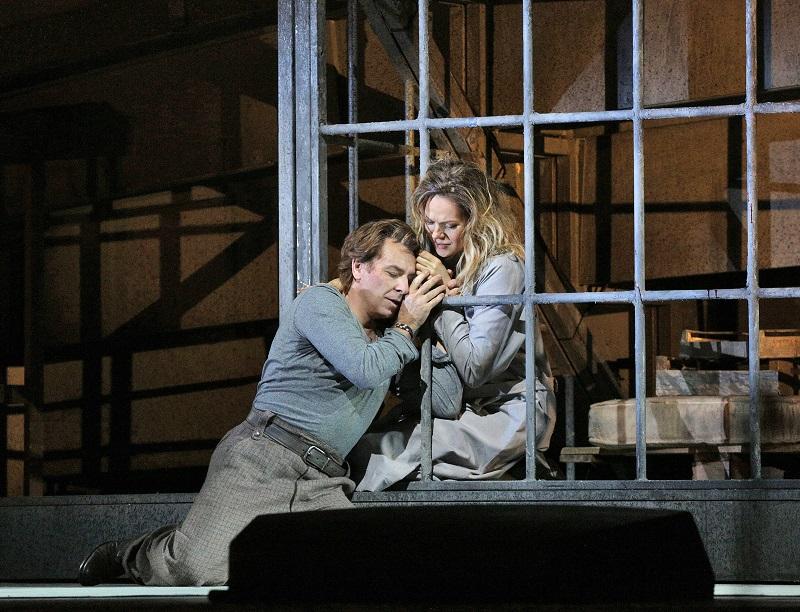 Thwarted lovers: Alagna and Opolais in Act III (Photo (c) Ken Howard/Met Opera)
I got to see Tuesday night's performance of
Manon Lescaut
, and I'm very glad I did. Hearing Kristine Opolais live for the first time was a highlight. Despite the infamously unsatisfactory development of Manon's character, her singing was both sensitive and thrilling. Also a pleasure was the ardent Des Grieux of Roberto Alagna. The lovers were supported by a strong cast, a lush orchestra, and a production that speaks my emotional language. To be honest, despite Richard Eyre's undoubted expertise, I wasn't sure how his
Manon Lescaut
would turn out (I'd found his recent Met Nozze deeply disappointing.) In the event, I found the production very effective. Not only is the stylized visual vocabulary of 1940s film a sure way to my heart and the breaking of it, but the historical setting of Occupied France was used to provide meaningful external pressures on both of the lovers. If there was anything lacking, it was only an indefinable spark... but I luxuriated nonetheless.
Getting to know
Manon Lescaut
through recordings, I've sometimes found the score to feel episodic despite motifs, and that fate was avoided here. I'm on record as an appreciator of Fabio Luisi's attention to detail and sense of sweep. Both were well-used, I thought, with the Met orchestra sounding rich under his baton. I could have wished for a somewhat gutsier, grittier approach, but perhaps I'm wishing for something scarcely to be found in this comparatively early Puccini. The stage-pit balance was occasionally off in Act I, but this was corrected later. In Act II, modified tempi and note values were used to turn the minuet into a more '40s-appropriate exhibition dance. I liked that, and to be honest, thought that more such minor liberties might have been productively taken (a Piaf song to fade into the overture, perhaps?) The intermezzo before Act III was an orchestral highlight of the evening, dark and desperate, evoking the swell of the remorseless sea. Admirably, the final act avoided melodrama: in a sense, this doom had been a long time coming.
Despite familiarity with Puccini and the Abbé Prévost, I often struggle to empathize with the struggles of Manon and Des Grieux. Richard Eyre's production provided a logic that nicely avoided the opera's danger of misogynistic caricature. Manon's anxious vacillation between pursuing love and pursuing safety makes infinitely more sense in a time of war; the same may be said, indeed, of Des Grieux' impulsive wooing, and her impulsive acceptance. The production as a whole (set design by Rob Howell, lighting design by Peter Mumford) evoked the fate-ridden atmosphere of
Le Quai des Brumes
. In the first act, worlds collide: the hotel where the travelers alight is elegant, its wrought-iron balconies belonging to a recent but already vanished past, its elegant reliefs crumbling. Dominating the stage is an arcade and staircase in a style typical of fascism's monumental architecture, while in their shadow sits the grimy but welcoming café (the only colorful site.) I liked that the café is a hub of poetry-reading and popular resistance, reminiscent of the refugee haunts in Erich Maria Remarque's
Arc de Triomphe
. The stairs connecting the platform of surveillance to the level of life return, gilded, in Manon's
appartement meublé,
otherwise a model of old-world elegance. The furnishings hearkened back to the
ancien régime
, while her clothes were unmistakably up-to-date. These exaggerated luxuries, however, stand condemned by their own opulence: the world they evoke has already been destroyed. There was something profoundly unsettling, I thought, about the group of well-dressed, well-fed men and women gathering for music and titillation in this space sealed off from the city and its wartime privations. The third act brings a great ship evoking those of old Hollywood, its gangplank covering the space where Manon is imprisoned. I couldn't help but think of
Algiers
, and I found this tableau--complete with curtain-down clinch--the most beautiful and moving of the opera. The infamously implausible wasteland of Act IV is a bombed-out building, the staircase fallen, the windows blown out, the reliefs half-obliterated. It is in this barren landscape that the lovers are overtaken by fate: without illusions and without hope, but still clinging to each other with desperate tenderness.
I found the singing cast to be strong. In smaller roles,
Andrew Bidlack
excelled as the street singer.
Zach Borichevsky
was a sweet-voiced Edmondo with a nice, relaxed stage presence. As Geronte, Brindley Sherratt exuded a suitably smarmy menace, and sang with a suitably insinuating bass.
Massimo Cavalletti
, in the role of Lescaut, had good charisma, and a more intense presence than his plangent but not strongly colored baritone seemed to convey. His role is given a particularly strong arc in this production, and I found it a moving one.
The production did a better job with Des Grieux' character than Manon's, I felt. This impression is perhaps in part due to Alagna's portrayal, that combined sensitivity with earthy sensuality. Des Grieux appears as unusually dreamy, a poet always lingering at the edges of a scene, on the sidelines, whether seeking to get out of a trap or to avoid one. Alagna sang with nice lyricism in the first act, but really came into his own in portraying the opera's more desperate passions. I was pleased to note that his voice sounds in remarkably good condition on the whole. Alagna also sang with beautiful phrasing, convincingly ardent and convincingly oppressed by the certainty that his ardor would never be enough to save himself and the woman he loves. "Ah, Manon, mi tradisce" is not a cry of rage, but one of resignation. I was enormously impressed by his great defiance in Act III. Alana not only sang a grippingly anguished "No, pazzo son..." but concluded with a generous, prolonged note of triumph, rising with the orchestra. He sang the lovers' final scene without wailing and gnashing of teeth, with only a vast and brokenhearted tenderness.
I confess that I'd never been able to make sense of Kristine Opolais' voice on recordings, so that hearing her live was a revelation, as well as a pleasure. I found myself continually impressed by her range and her control. Opolais used her unusually wide range of vocal color to great effect. Also, she inhabited the persona of a Barbara Stanwyck-esque heroine admirably. Never having believed in the likelihood of love, she fights fiercely for a chance at survival. A special poignancy, thus, was given to "In quelle trine morbide," delivered with genuine sweetness and reflection. Opolais' "Sola, perduta, abbandonata" built compellingly to a great cry of rage at the forces that have brought her to this moment, at all the ways in which she has been abandoned. At last, she knows herself, and she knows herself loved, but this is not enough to save her.