Jay Hunter Morris, Deborah Voigt in Siegfried's final scene. Photo (c) Ken Howard/Metropolitan Opera
With inexorable momentum, Wagner's
Gesamtkunstwerk
rolls on at the Met. Saturday's performance of
Siegfried
was remarkable for its emotional immediacy, a musically and dramatically exciting experience. I am still frustrated that Lepage's approach to the staging of the
Ring
is descriptive rather than analytical, but the performers did an admirable job. The humanizing approach to the
Ring
, while it may be the best approach to working with Lepage's sets, does not serve all the relationships of Siegfried equally well. The staging's implication that Mime is an unreliable narrator remains unexplored, but there was more detailed characterization of his relationship with Mime, which worked well. Siegfried's abuse of Mime is thus adolescent pique. The dwarf's interactions with the Wanderer further establish that Mime's disagreeability is personal, not part of a larger scheme of value; his refusal of
Gastfreundlichkeit
is shrugged at by the old man who dries his own boots at the fire. The orchestral performance was better-coordinated than at this cycle's Walküre; there were one or two moments where the brass sounded slightly unfocused, but matters were much improved. The horn and woodwind soloists distinguished themselves, and the forest murmurs were dreamily lovely. Whether it was the result of added experience or simply an example of a performance "clicking," I found myself more convinced and engaged by Fabio Luisi's
Siegfried
on this second hearing. Flexible dynamics and responsiveness to the singers made it a lively, but not a lightweight account. The orchestral playing in the final scene was so radiantly sensual as to border on the obscene; from my perspective, this counts as warm praise.
A strong cast of singers delivered fine performances. Erin Morley's Waldvogel sang beautifully, if not always intelligibly. Patricia Bardon still sounds light-hued for Erda to me, but she phrased her music expressively. Hans-Peter König's expansive sound as Fafner was far more intimidating than the dragon's snakelike head. Eric Owens' charismatic singing and incisive diction made Alberich's reentry carry an appropriate frisson of excitement, and his scene with Bryn Terfel's Wotan sparked with energy. Gerhard Siegel sang a magnificent Mime, with richly expressive use of text, and full, muscular sound. At the outset of Brünnhilde's glorious awakening, Deborah Voigt sounded a bit thin, but soon warmed up to deliver a strong and deeply affecting performance. She and Jay Hunter Morris have an excellent stage chemistry, and Voigt portrayed Brünnhilde's complex emotional journey movingly, as she reconnects with her former existence only to realize that her life must change. At her "Siegfried! Dein war ich von je!" I actually teared up. I might have wished for still more recklessness to "Leuchtende Liebe! Lachender Tod!" but the triumphant finale provided exultant emotional release.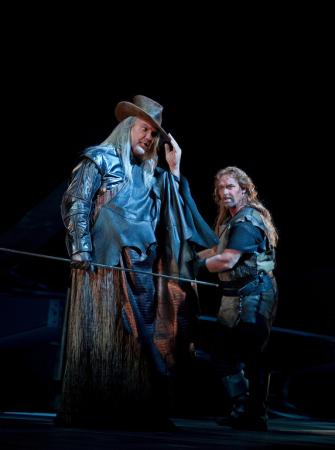 The Wanderer of Bryn Terfel I found never less than compelling. More strongly than before I got the sense of his Wanderer as fey, reckless in the awareness of his own doom. The self-condemning blindness of Mime, of Fafner, and even of Erda is to him a matter only for bitter laughter, not for surprise. Terfel sang authoritatively and with control, and his use of German text continues to delight me. Jay Hunter Morris gave an unusually sympathetic and nuanced portrayal of the titular hero: his Siegfried is hungry for knowledge, and hungry for human affection, and it is these desires, rather than vainglory, which drive his exploits. "Duh!" you may exclaim, Gentle Readers, and yes, it is in the text; but how many times have you heard a Siegfried who made you believe it? Morris took discretion as the better part of valor regarding Siegfried's first high C (before noon, be it noted) and paced himself carefully. This is not a euphemism for restraint in manner; he sang with verve and beauty throughout. His is a smaller sound than that of some Siegfrieds, but he sings the role with intelligence and a touching emotional generosity. For Siegfried and Brünnhilde, all is joy; but the ravens of Wotan are still abroad.